Here is a true story. We will call her Frances. Frances is in her mid 80s and she has three doctors. A General practitioner, a heart specialist, and a doctor looking after her arthritis, a Rheumatologist. She sees them all regularly. Periodically, as her condition changes, she gets new prescriptions. Her GP is monitoring her Type 2 diabetes and the doctor has her on two medications to control that condition. From her heart specialist she has a medication to thin her blood, a medication to help control her blood pressure, and a medication to help control her cholesterol. From her Rheumatologist she gets a medication to control inflammation and one to control joint pain.
That is how it started. Now as time passed each of these doctors changed and added to Frances' list of medications. Frances was complaining of poor sleep, so her GP gave her a sleeping pill. The pain in her joints was getting more intense, so her rheumatologist increased her pain medication. Frances herself was watching an infomercial and decided to order an over-the-counter Med to also help with her sleeping.
These Doctors, all well intentioned are fixing the issue in front of them. They are unaware of what the other Doctors are prescribing. The pharmacist is filling the script and not checking to see if Frances' list of meds, to see if there could be a bad drug interactions. Perhaps there are multiple pharmacies involved.
At this point we count 17 Medications.
This is Polypharmacy, and it is a big, big, challenge for seniors and healthcare in general. The overprescribing and overuse of medications in our senior's population is called the second pharmacological epidemic, the first being the opioid crisis.
You see doctors know how to diagnose and treat, while pharmacists understand best medications, and drug interactions. The chart below illustrates the differences in the training of doctors and pharmacists.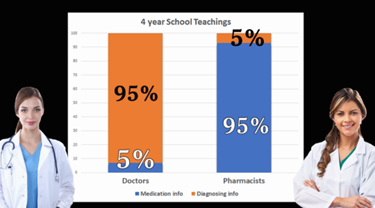 Let's get back to Frances. She has been dealing with a great deal of dizziness and confusion in recent weeks. So intense are these bouts of dizziness that she remains in her armchair for most of the day. Frances was attributing the brain fog and dizziness to her old age, she just sucked it up. She should not have. You see constant, persistent dizziness is not a condition of aging. It is for Frances, and similar cases being caused by the 17 drugs in her system.
Getting up from her armchair one day the dizziness became so intense she lost her balance and had a bad fall. Hospitalized for a time, she was moved a Long-Term-Care (LTC) facility to recuperate. Once there a multi-disciplinary health team came around her and coordinated all aspects of her care including her medications. The LTC Doctor and Pharmacist took over her medications and reduced the 17 to…wait for it…5. Yes 5. Frances recovered from her fall induced injury, and the chemical cocktail that had been coursing through her veins. Paradoxically, her son reported that the fall was the best thing that could have happened to his mom. "I got my mom back!", he told the leaders and staff at the LTC community.
This true story was shared with me by Andy Donald, owner and CEO of The Health Depot, and a Certified Geriatric Pharmacist. Andy is on a mission to improve the health care system for seniors by reducing and eliminating the scenario I just described. "We need to get rid of healthcare silos. We are not talking to each other in a way that puts the patient first. No one is to blame. It is just that the way we have been doing things is baked into the system."
Andy says the solution will come from two different sources. First, technology has advanced to a degree that Doctors Scripts will be matched up against all current patient meds and will flag potential issues. Also known as eHealth. Pharmacist access to all patient medication records will go along way to reducing polypharmacy.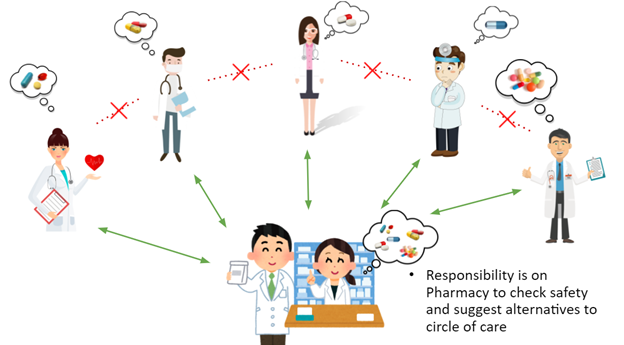 Secondly, and perhaps more importantly, a change in attitude in healthcare is required. Truly patient centred care. The Doctor asking the Pharmacist, the Pharmacist putting the patient first, asking, inquirying, and yes saying there is a better way.
Check out www.thehealthdepot.ca, or contact Andy Donald CGP via email andy@thehealthdepot.ca